Carpet Padding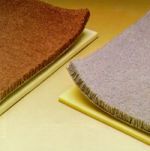 Carpet padding also insulates the room from both heat and noise. If you selected carpet to absorb sound, you will double the effectiveness of the sound absorption when you add a pad. It also prevents the carpet from sliding and wrinkling. A cushion's insulation properties can also increase the efficiency of your heating and air-conditioning systems. Tests have shown that padding also makes vacuuming more effective because of the lifting action, raising the carpet slightly from the pad. This reduces the grinding actions of embedded dirt that can cut and fray even the most durable carpet fibers.

We offer several types of carpet padding to meet your needs:

Rebond - 6 lb. is standard carpet cushion. It is constructed from small chunks of various sizes and densities 'rebonded' together. Most urethane pad is 1/2" thick.
Synthetic Felt - replaces the old "jute" horse hair padding with man-made materials. This padding is typically used in commercial and wool carpet installation. It is available in 20, 32 and 40 oz. weights and is much denser and offers less cushion than the Rebond.
Premium - Premium pad is constructed of 100% foam (virgin polypropylene) in a number of weights for various purposes such as radiant heat floors and extra insulation.

The relative density of all foam pad is expressed in terms of weight per cubic foot. Therefore an 8lb. rebond pad is 33% heavier than the 6lb.